Scooter boy
Join Date: Jan 2013
♂
Posts: 31
Trade your Superbike bar kit for riser clip ons?
---
Is anyone interested in trading their Superbike bar kit for a pair of Apex adjustable riser clip ons? These are 50mm clip-ons with 4" rise and they have a huge degree of adjustability. I'd be looking to trade for a PURPOSE BUILT (not home-made) upper triple clamp (LSL or similar), risers & bars. The front end set up I have is from a 2007 GSX-R 750 so the triple clamp needs to have 50mm fork openings with 30mm stem offset.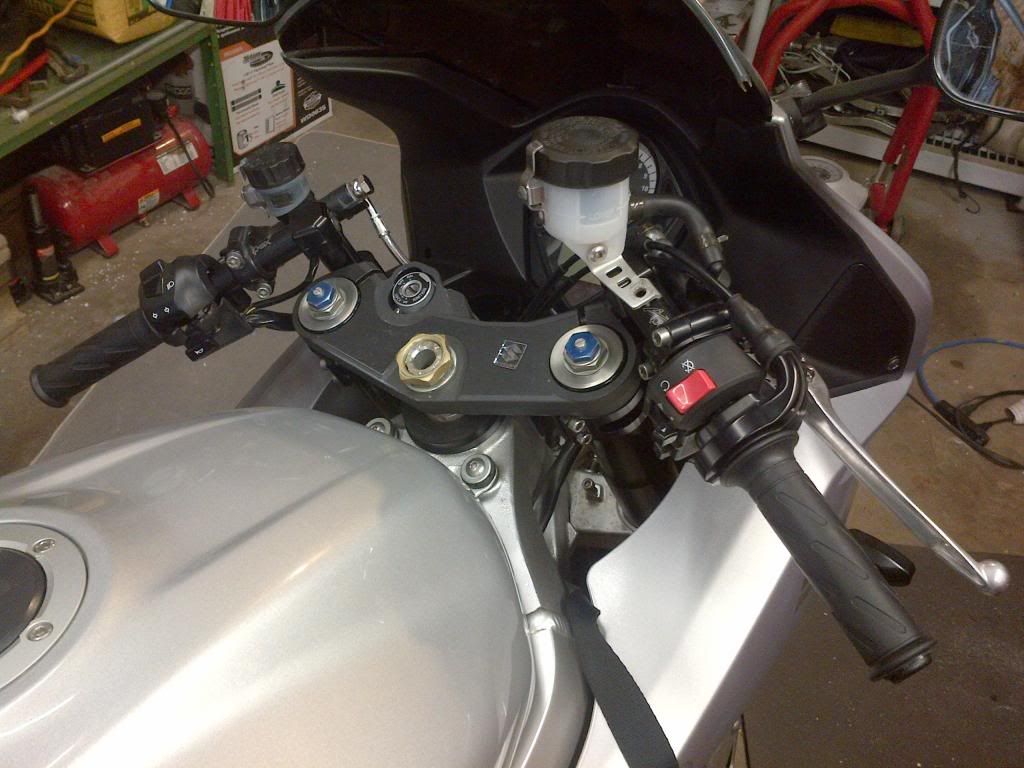 Let me know if you have any interest. We can work out shipping separately from the trade.
Thanks
I know that it is really late for this but wanted to at least comment on the way that you have the clip ons because I recently purchased these clips ons. I was struggling with the adjustability of the clip ons because items attached to the clip ons where proving to not be long enough for the set up.
What I found is that I was NOT allowing my brain to think outside of the normal adjustability of regular clip ons. I was finding that my bars were showing to be too long for the setup and the throttle cable was too short. In short, I see this set up and I think, "what an idiot." I was NOT thinking of just rotating and then attempting these or another setup.
Well, I will say in the words of Allen in his tutorial from STG
Motorcycle Gear | Buy Motorcycle Helmets, Jackets, Parts, Tires & More
, "If you can't get the set up desired out of these clip ons then you don't need to be on the bike."
I would recommend this product if you are looking to get some adjustable clip on risers. The adjustment is truly overwhelming and great at the same time. I believe these will assist me in better positioning on and off the track.
---
Ridin' HighNooN
L I V E L O V E R I D E! ! !
Currently Active Users Viewing This Thread: 1

(0 members and 1 guests)